Description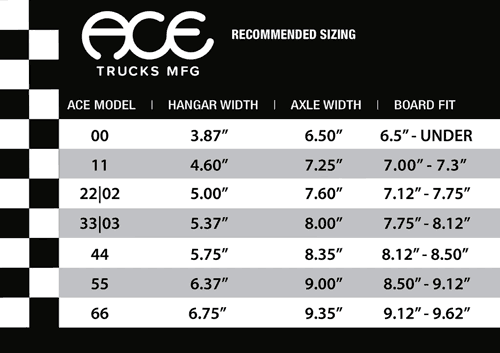 Ace 22 Classic 2.125″ (52mm) tall truck. This is the size for narrow tech boards, freestyle setups, and mini cruisers! Ace 22 allow you to do it all and excel! Whatever, wherever you are trying to grind, Classic 22's will take you there with stability. Need some flick in your set-up? 22's won't slow you down!
These beauties like to gnaw on anything with an edge. "Like a hot knife through butter" to quote your great-grandad.
The 22 Hi trucks from Ace were designed for surf-inspired turns with an easy flow and a smooth grind. The hanger makes you think old-school, yet this vintage flare is perfectly paired with modern technology and performance. Grab a pair today and find out what everyone wants to roll on.
ACE TRUCKS 22 CLASSIC:
Axle width: 7.6″ Hanger width: 5.0″
Truck height: 2.125″ (52mm) Classic
Fits boards 7.9″ and below
Color: Raw Aluminum
Pure 7071 series aluminum
Heat-treated 3056 series steel axles
Sold in pairs 
Shogo Zama holding it down for Yokohama & Ace Trucks.