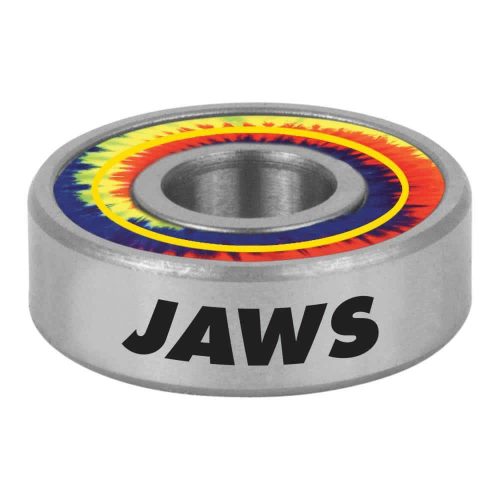 Bronson Speed Co is proud to release Aaron Homoki JAWS signature G3 bearing. Aaron's signature bearing features a retro tie dye pro colorway and "JAWS" laser etched on the outside bearing ring.
GO FAST, STAY FAST on Aaron's signature bearing. 
BRONSON  SPEED BEARINGS G3 feature 'Deep Groove' Raceways. Balls sit and roll deeper in the raceway channels than weaker shallow groove designs. Reduces axial and angular side impact damage and breakage, surfaces stay smooth and fast. Respect the Shield 'Straight Edge' Frictionless Shields.
Non-contact rubber shields fit deep in the inner race edge- reduces oil leak and dirt & moisture intrusion. Free spinning, durable, pop off resistant shields, serviceable, remove-able, easy to clean and re-install.
'Micro Groove' Raceway Surfaces – Self smoothing microscopic linear grooved raceway surfaces improve bearing lubrication and spin. The micro grooves increase spin by eliminating the standing wave of lubricant just in front of the rolling ball.
Strong, non-distortion glass filled nylon cage keep the balls precision spaced and oil circulating. Ball cage socket surfaces engineered to hold oil and provide continuous ball lubrication.
For optimum high speed performance install bearing with the designated balls-out/cage-in orientation (shields facing outside of wheel.) Results in a go fast, stay fast bearing that spins longer by reducing shield and cage contact on impact.

Special Blend High Speed Ceramic Oil.  Featuring special oil blend with nano ceramic compounds for anti-wear protection for longer lasting bearings and more speed. Light and smooth- with additives that resist rust, moisture, corrosion and oxidation for prolonged oil life.
Shred Ready Factory Fresh Quality 100% hand inspected twice and micro-polished & ultrasonic solvent washed 3X prior to final lubrication. Packaged in nitrogen filled shrink-wrap – reduces metal and oil oxidation until ready to be ridden.
Introducing Bronson Speed Co. – Next Generation Bearings, Designed for Today's Skateboarding. Bronson Speed Co. bearings are the fastest, strongest, longest lasting, longest spin skateboarding bearing ever made. The bearing has been reinvented.